Sustainability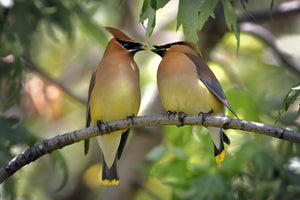 Nature First
The 'Waxwing' in Waxwing Labs comes from Taylor's favorite bird - the Cedar Waxwing. When we aren't making clothes, we're probably outside doing something in nature.
Keeping nature beautiful is a huge part of our every day lives, and it was a requirement for the brand that we built.
Whenever possible, Waxwing Labs makes an effort to use the most sustainable production and delivery practices. We give strong preference to suppliers who use natural and environmentally friendly processing and treatments. We actively source fabrics that don't require harsh chemicals to develop. We've built our supply chain to keep transit costs to a minimum, reducing our carbon footprint. We use carbon neutral shipping options when delivery allows. Our packaging is made from paper and stamped with environmentally friendly ink.
Our founder even worries about the scraps of fabric left after production. Because of that, our suppliers send it back to us in the same box as our finished products. We use these for our swatches, and the remainder is donated to a local arts magnet school to use in art projects.
If there is a way we can reduce our footprint or find a second use for the fabrics we develop, we make a conscious effort to do just that.
As we continue to grow, we hope to show the world how quality clothing can be sourced and developed across the world sustainably and effectively.