Our Suppliers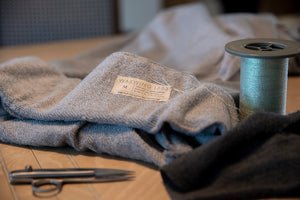 Hand applied labels on The Willow. Florida. 2020.
Fabric & Trim Sourcing
We look for mills that have high quality standards with their fabrics and trims. Certain regions of the world are known for types of fabric, and depending on what we are developing we may source from anywhere. Our labels say "from imported materials" and we mean it - a pair of pants may have a fabric from Japan, a trim from Italy, a drawstring from Vietnam, and a label made in Florida.
For us, it's not about where the item comes from - but who makes it. Does the quality meet our expectations? Does the fabric pass shrinkage and other testing requirements? Does the trim feel like the absolute perfect match for a premier fabric?
Then we look at the supplier deeper. Do they pay a fair wage for their area of the world? Do they have sustainable production and business practices? What types of chemicals and treatments do they use in the production process?
Our vision requires that our entire supply chain practice the same approach to ethical, sustainable production that we do.
Our current fabric supplier is Fujisaki Textile Co. (Tokyo, Japan) via New Power Generation Corp (Los Angeles, CA). Our elastic is supplied by P.I. Trimmings (Hong Kong).
Cut & Sew
Cut & Sew is where the product is made. Currently, all of our products are produced in the USA.
We made the decision to produce locally for a number reasons. Waxwing Labs wants to support American businesses. The textile industry in America has been shrinking for decades, and we want to help drive its resurgence.
We also demand that everyone who touches our product gets paid a fair wage. We try to keep flights to a minimum to reduce our environmental impact. Producing in the US lets us be positive fair wages are being paid without having to fly out to verify.
Finally, it lets us produce quicker. When we know a fabric that we love - we can order it and have it being milled and shipped while we work with the factory on samples and design. Once the fabric arrives, they are ready to go into bulk production. Our time-to-market is considerably reduced, which is helpful because we produce in such small runs.
Our current garment manufacturer is Gil Sewing Corp (Chicago, IL).
Packaging
We even worry about where our packaging comes from.
The printing minimums for environmentally sustainable packaging are honestly outrageous, but we refuse to sacrifice our values. Instead of buying the standard poly bag packaging with our logo printed on it, when you make an order you'll see that it comes in a paper bag, with our logo hand stamped with environmentally friendly ink.
And yes, our current packaging is made in USA.
Our hemp apparel labels are supplied by Woven Labels Source (Tampa, FL); mailer bags by WCI (Greenbay, WI) via Salazar Packaging (Oswego, IL); paper supplies by GotPrint (Burbank, CA); stamp and ink by PromoteSource (Palm Beach Gardens, FL).