French Terry Merino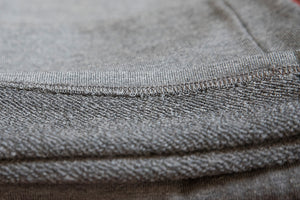 The Details
We spend many weekends exploring the outdoors and own dozens of wool sweaters, pants, and base layers from start-ups to major brands. We love the typical benefits of wool - anti-order, temperature regulating, and a hand feel that only a natural fiber can deliver.
Merino is already soft, and honestly there are dozens of fantastic Merino clothing companies out there. A quality Merino fabric by itself isn't innovative - it's standard in every travelers backpack, and for good reason.
But when we found this fabric, we realized it's different.
This is easily the softest Merino we've ever felt - for two reasons: the quality of the wool, and the French terry weave.
Our supplier calls this 'Mountain Breath' because it comes from Merino sheep who are raised at the tops of the New Zealand mountain ranges. We're not sure if it's the altitude, the weather, or just the right lineage of sheep - but the end result is a brilliantly fine Merino material.
After shearing, the wool is shipped to a mill in Japan. There it is spun and knit into this luxurious fabric. Rows of tiny French Terry loops are woven into the interior facing makes the already comfy wool feel like dew against your skin.
We've seen Merino before. We've seen French terry before. We hadn't seen anything like this. So of course we had to have it.
The Fabric
100% Merino Wool from non-mulesed New Zealand sheep.
French Terry knit fabric produced by Fujisaki Textiles in Japan.
Weighing in at 560 gsm, it's surprisingly light enough to have an airy drape, but thick enough that you can't see through.
Fine, 2/60 size yarns are knit on 14 gauge machines that use 30 needles per inch for exceptional quality.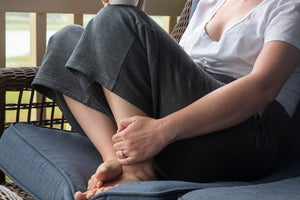 The Raw Materials Cost
$43/yard before the various duties and import fees.
This is a top of the line wool from New Zealand, milled by a premier textile producer in Japan.
A typical 100% Merino of moderate quality would run ~$17/yard.
Fabric Care
Merino wool is naturally anti-bacterial and anti-odor, so you can wear it more and wash it less.
We recommend washing cold and air drying on a flat surface to avoid any unexpected stretching. That's the safe choice and extend the life of the garment.
We did test this material a number of ways, and shrinkage on a low-heat tumble dry is minimal. Wool does tend to pill when tumble dried, so while your size may be fine you may notice pilling if you run this through the dryer.
Like anything else made of 100% Merino, don't tumble dry hot unless you want something sized down a couple sizes.